BMC Flooring Program
A Private Labeled product line you can call your own.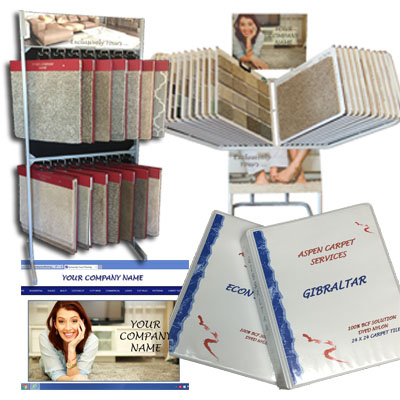 Finally, a
Private Labeled Sample Program
designed to give participating Dealers a distinct advantage in marketing over their competition. The program offers a range of residential products in an impressive, yet simple sample presentation, which
advertises your business
in a manner few can match. Add the little things like, extensive color lines,
75 Ft. Roll Price Program,
no annual fees, and limited program distribution, to the obvious
advantages a private program
offers, and this program becomes a true marketing tool.
What You Get
You Will Receive Everything you See Below: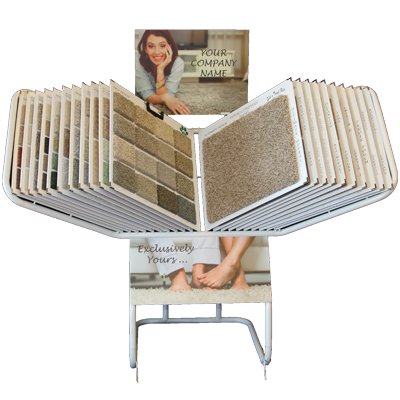 Exclusive Wing Display
Our Exclusively Yours Wing Display holds
21 Private Labeled Cards
with a nice assortment of residential styles. Every card is
stamped with your company
or brand name in silver and is 100% exclusive to your company. Styles include textures, cut/uncuts, tone-on-tones, multi-colors, solids, 15 foot widths and budget friendly products.
Exclusive yarn systems
of Silk n Tough Polyester, Silk n Tough Nylon, Silk n Tough Super Soft Nylon, as well as StainMaster, PetProtect, and ScotchGard. The display also has your Exclusive Name on the header.
Exclusive Deckboard Display
Our Exclusively Yours Deckboard Display comes complete with
14 Private Labeled Decks.
Unlike some deckboard racks, this makes showing these additional styles simple and easy and saves a lot of space on your showroom. These styles are in addition to the styles on the Wing Display. Each Deckboard is also
stamped with your company name
or brand in silver and is 100% exclusive to your company.
Commercial Folders
Our Exclusively Yours Commercial styles are displayed in
15 Architect Folders.
These folders are sturdy and high quality. Each 3 panel folder shows a unique style with all the necessary commercial specs. Folders are also
customized with your company or brand name,
the same as the other cards and decks. We go one step further and put your company contact information on them as well. Store Name, Address, Phone, email, etc. Commercial styles are Olefin and Nylon so they will cover your
mainstreet and contract
needs.
Exclusive Dealer Website
Our Exclusively Yours Program comes with a Dealer Website. This website is included at
no additional charge.
The website includes an online product catalog, a feature traditional buying groups and aligned programs charge up to $100 per month to have and maintain. Your website will have all your
private labeled products
, images, product info, etc., in an easy to use format divided into categories as well as A to Z. We also have the
option of upgrading your website
for your business to Option 2 or Option 3 for a one time flat fee of $99 or $199, respectively.
Additional Program Benefits
Exclusively Yours Dealers Can Take Advantage of:

EXCLUSIVITY OF PRODUCTS
- Feature products your competition can't purchase.
75 FOOT ROLL PROGRAM
- Private Sample Dealers get 75' Roll Pricing on ALL Styles.
CUSTOM BMC DEALER WEBSITE
- Have your own customized website showing all your products
REDUCES PRICE SHOPPING
- Virtually eliminates customer shopping your quote all over town.
ADVERTISE YOUR BUSINESS
- Your company name on everything. ..absolutely no mill I.D.
STAND ABOVE THE COMPETITION
- Gives your business that professionalism others can't match.
LOAN SAMPLES WITH CONFIDENCE
- Your name gives these samples legs.
EXCITES YOUR SALES PEOPLE
- Gives them all the ammunition they need to close more sales.
FREEDOM OF MARKETING
- Enables you to promote your products exclusively.
KEEPS YOUR COMPETITION GUESSING
- They won't be able to tell who your supplier is.
NO DROP ASSURANCE
- Guaranteed 9 month No Drop Policy.
NEW PRODUCTS
- Introduced once per year. Purchase only the ones you want.
LIMITED DISTRIBUTION
- Only Private Sample Dealers have access to Private Styles.
LOW INVESTMENT
- Our program cost is much lower than typical buying group fees. Affordable for dealers of all sizes.
View Our Complete Product Line